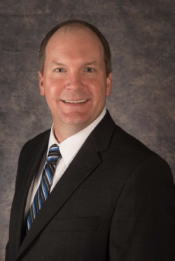 Hanover, Mass. (October 30, 2017) – Rockland Trust has announced the appointment of Bob Berry as Vice President of Benefits, Compensation and Payroll.

Bob will be responsible for assisting in the oversight, design, selection, and administration of Rockland Trust's health and welfare programs including pension, savings and stock plans, as well as executive benefit programs. He will also manage the Bank's payroll process and reporting, tax and regulatory information.

Prior to joining Rockland Trust, Bob served as Benefits Manager at Wayne J Griffin Electric and as Benefits Specialist at TRO Jung/Brannen, an integrated planning, architecture, and engineering company.

An active member of the Northeast Human Resources Association and the Society for Human Resource Management, he also serves as a coach for the Freetown/Lakeville Youth Soccer Club.

Bob received a Bachelor's of Science degree in Business Administration from Bryant University and his Certificate in Human Resources Management from Bentley University. He resides in Lakeville with his wife Nicole and their two children.
About Rockland Trust
Independent Bank Corp. (NASDAQ Global Select Market: INDB) has approximately $8 billion in assets and is the holding company for Rockland Trust Company, a full-service commercial bank headquartered in Massachusetts. Named in 2016 to The Boston Globe's "Top Places to Work" list for the eighth consecutive year, Rockland Trust offers a wide range of banking, investment, and insurance services. The Bank serves businesses and individuals through approximately 100 retail branches, commercial and residential lending centers, and investment management offices in eastern Massachusetts, including Greater Boston, the South Shore, the Cape and Islands, and Rhode Island. Rockland Trust also offers a full suite of mobile, online, and telephone banking services. The Company is an FDIC member and an Equal Housing Lender. To find out why Rockland Trust is the bank "Where Each Relationship Matters®", please visit
www.rocklandtrust.com
.