From one branch in Rockland to over 120 branches today across Massachusetts, we have over 115 years of supporting relationships with customers, communities, and colleagues.
Our story starts in 1907 when a local group of businessmen in Rockland, Massachusetts decided they needed a bank to "promote the business activity and growth of Rockland and its vicinity." Receiving approval on September 10 of their proposal to take over the First National Bank of Rockland, they created Rockland Trust Company with $200,000 in assets.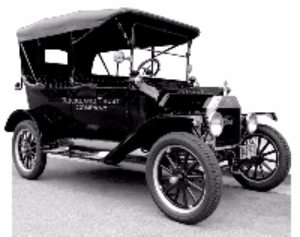 In 1910 we took advantage of the latest technology to introduce 'automobile banking.' In a model T Ford, our bankers brought Rockland Trust directly to the people in communities around Rockland that had 
previously been without convenient banking facilities. This began our long history of innovation in serving our customers.
In 1917 Rockland Trust moved into a newly erected building at 288 Union Street in Rockland, which remains the Bank's official headquarters. Then-Vice President Horace T. Fogg marked the occasion with these words which are still as true today, as they were over 100 years ago: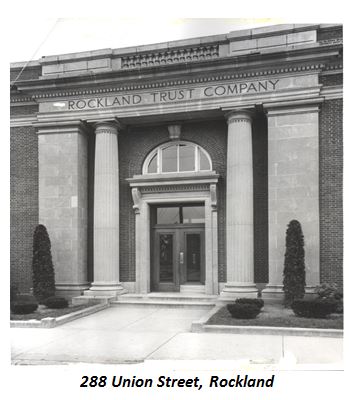 "We realize our obligation to this community and to the communities which surround us, and which we endeavor to serve with fidelity and zeal"
Spurred by the success of our automobile banking service, the Bank looked to open a branch in the nearby town of Scituate. With the support of the community, in 1920 Rockland Trust opened our first branch outside of Rockland.
By 1927, our 20th anniversary, Rockland Trust had grown deposits to approximately $3.5 million. Courtesy of our automobile banking service, business continued to grow into other communities in Massachusetts' south shore region – especially in Hull, a bustling seaside summer community visited by many residents of Boston and the South Shore.
It seemed logical to open a branch in Hull, but we faced strong opposition from Massachusetts Governor Alvin T. Fuller to "Kangaroo Banking" – the establishment of branches in towns not adjacent to banks' main offices. Again, the community came to our aid and the citizens of Hull circulated petitions asking for approval to establish a Rockland Trust branch which opened in 1927.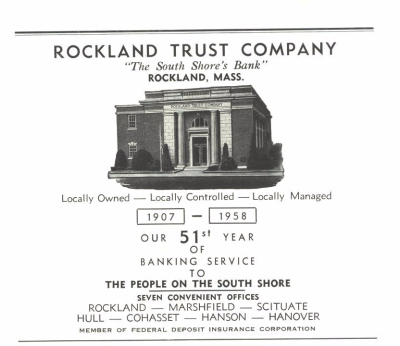 Over the next 60 years, Rockland Trust continued to grow and prosper. Amid challenges along the way, including the Great Depression of the 1930s and World War II, we expanded into new communities south and west (click
here
for a timeline of the Company's acquisitions and expansion history). By 1980, Rockland Trust had $220 million in assets and 18 branches in cities and towns across Massachusetts' South Shore region.
The 1980s and 1990s brought more technological advances which we used to make banking easier for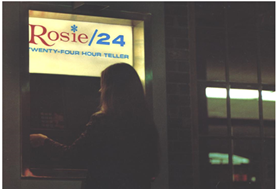 our customers.  In 1980, we installed our first Automated Teller Machine (ATM). Nicknamed "Rosie," she quickly gained popularity for enabling customers to make cash withdrawals and deposits – as well as loan and mortgage payments – 24 hours a day, 7 days a week.
In 1985, we reach an important step in our history when Rockland Trust merged with the Middleborough Trust Company. The stockholders of both companies voted to become wholly owned subsidiaries of a new parent corporation – Independent Bank Corp. (NASDAQ Global Select Market: INDB).  In June of 1992, the two banks were merged, and all branches began operating under the name of Rockland Trust.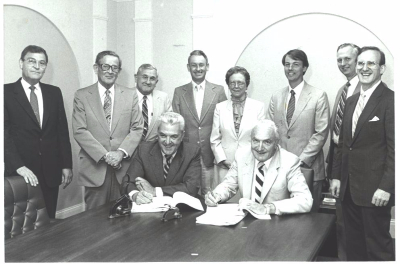 Keeping pace with changing technology, Rockland Trust joined the online community in 1996 with the launch of our first website. One year later we introduced debit cards, offering customers both the ability to withdraw cash at the ATM and make cashless purchases in-store.
From 1999 through 2009 Rockland Trust continued to expand, extending our coverage over the bridge onto Cape Cod and into Massachusetts' South Coast and Metrowest regions through acquisitions that included Fleet Bank branches, Falmouth Bank, Slades Ferry Bancorp, and Benjamin Franklin Bank (click
here
for more details about our acquisitions).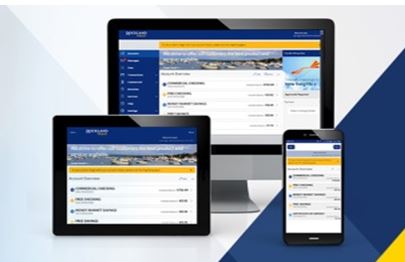 As we continued our commitment to making banking easier for our customers, in February of 2011 we became one of the first banks in New England to launch mobile banking. Our suite of mobile banking services included mDeposit, a ground-breaking new capability for depositing checks directly into accounts via customers' mobile devices. Today, we offer
banking from any digital device
: smartphone, tablet, and desktop PC, as well as
mobile wallet
services and 
Rockland Trust Business Online Banking.
Rockland Trust achieved another milestone in 2011 when we opened a Commercial Lending Center and Wealth Management office in Providence, Rhode Island. Located in the heart of Providence near City Hall, the move affirmed our commitment to the Rhode Island business community.
In 2012, we joined communities to the north and west of Boston through the acquisition of Central Bank. Three years later, in 2015 we officially entered the City of Boston through the acquisition of Peoples Federal Savings which included nine branches in Boston neighborhoods.  The branches joined Rockland Trust's recently opened investment management and commercial lending office in Boston's Downtown Financial District.
Upon our 110
th
year in business, we welcomed customers and communities on Martha's Vineyard through the acquisition of Edgartown National Bank. The following year, we expanded our reach in Worcester County through the acquisition of Milford National Bank and the opening of our first office in the city of Worcester.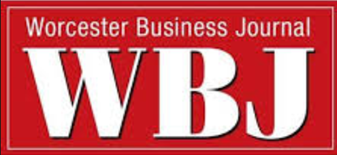 We expanded our presence further in Greater Boston, celebrating our first downtown branch in December 2018, acquiring Blue Hills Bank in 2019, and acquiring East Boston Savings Bank in 2021.

We continue our long heritage of support for the business community through our more than 80 Commercial Lenders who can provide financing of more than $75 million. In addition, our team of Business Bankers are dedicated to helping small businesses across the region grow and thrive and we are consistently one of the most active  SBA (Small Business Administration) lenders in Massachusetts.
Rockland Trust's Investment Management Group (IMG) is ranked one of the Largest Independent Investment Advisers in Massachusetts. The team has over $5.5 billion in assets under administration, and a team with more than 85 experienced professionals across ten investment offices located throughout Massachusetts and Rhode Island. IMG provides comprehensive wealth management services ranging from investment management and financial planning to estate planning, insurance analysis and more. IMG combines the extensive capabilities of a large institution with the deeply personal service of a community bank to offer you more than you expect, but just what you need.
With $19.4 billion in assets as of June 30, 2023, we now serve more than individuals, families, and businesses through over 120 branches, 20 commercial lending centers, 11 investment management offices and 9 mortgage centers in Massachusetts and Rhode Island.
Rockland Trust has received numerous accolades from third parties recognizing our relationship-style of banking. Our more than 1,700 colleagues are committed to being the Bank Where Each Relationship Matters® every day.