Use Your Card's Full Potential
Owning a Rockland Trust Debit Card has more benefits than just access to cash. Your card provides you with access to a suite of features and benefits that make your life easier and secure. To order your debit card today, visit a branch nearest you or call our Customer Information Center at 508-732-7072.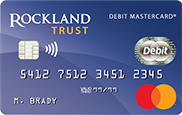 Start taking advantage of the many convenient offerings below.

In-Store and Online Purchases
Use your Rockland Trust Debit Card wherever Mastercard is accepted


ATM Withdrawals
Take advantage of our over 200 Rockland Trust ATMs as well as access to thousands of ATMs across the country using an ATM on the SUM Network


EMV Chip
Our embedded microchip provides a higher level of security when making purchases at chip-enabled terminals


Contactless Cards
Allows for a faster checkout process all while providing the same high level security our chip cards offer


Mastercard® Zero Liability1
Avoid responsibility for unauthorized transactions when using reasonable care in protecting card from loss or theft


CardSwap
Update your card information with all your favorite services in one single location


SecurLOCK™ Equip
Protect your Rockland Trust Debit Card directly from your phone with the SecurLOCK Equip app


Mastercard Click to Pay
Quickly pay for online payments by securely storing your payment information in one place


Mastercard ID Theft Protection™
Provides proactive monitoring, alert, and resolution of potential identity theft threats


Priceless Cities2
Enjoy Mastercard PricelessTM Experiences