Hanover, Mass. (August 10, 2017)

Rockland Trust announced that Karl Farmer joined the Bank's Investment Management Group as Portfolio Manager and will focus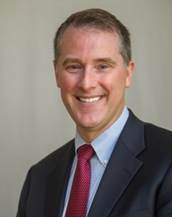 on managing client portfolios, performing securities research, and setting investment policy.
Karl joins Rockland Trust from Abbot Downing, a division of Wells Fargo that works with high-net-worth individuals and families, as well as foundations and endowments, to help preserve and grow assets. Prior to joining Abbot Downing, he served as Portfolio Manager at both BBVA Compass and Invesco, an independent investment management firm.
Karl is a Chartered Financial Analyst (CFA) and is member of the Chartered Financial Analyst Society of Boston. He is also a member of the Boston Estate Planning Council – a multi-disciplinary community of over 700 estate and wealth planning professionals.
He received a Bachelor of Science in Economics from Texas A&M University and a Master's degree in Finance from the Wharton School at the University of Pennsylvania. Karl resides in Newton, Ma with his wife and two sons. Active in fundraising, Karl has raised over $100,000 for autism organizations with the help of his family.
---
About the Investment Management Group
Rockland Trust's Investment Management Group manages approximately $3 billion in assets and creates customized plans for individuals, municipalities, businesses and not for profit organizations through a full range of services including: Investment Management, Trust and Estate, Insurance, and Financial and Retirement Planning. The team is comprised of more than 50 experienced professionals who consistently apply sound investment principles to minimize risk and maximize long-term results for clients in a dynamic investment landscape.
For individuals IMG takes a holistic approach to wealth management. Each client is assigned a team of three financial professionals, including a relationship manager, financial consultant, and a portfolio manager, who work collaboratively to develop a long-term financial strategy that extends beyond traditional money management.
About Rockland Trust 
Independent Bank Corp. (NASDAQ Global Select Market: INDB) has approximately $8 billion in assets and is the holding company for Rockland Trust Company, a full-service commercial bank headquartered in Massachusetts. Named in 2016 to The Boston Globe's "Top Places to Work" list for the eighth consecutive year, Rockland Trust offers a wide range of banking, investment, and insurance services.  The Bank serves businesses and individuals through approximately 100 retail branches, commercial and residential lending centers, and investment management offices in eastern Massachusetts, including Greater Boston, the South Shore, the Cape and Islands, and Rhode Island. Rockland Trust also offers a full suite of mobile, online, and telephone banking services. The Company is an FDIC member and an Equal Housing Lender.  To find out why Rockland Trust is the bank "Where Each Relationship Matters®", please visit www.rocklandtrust.com.