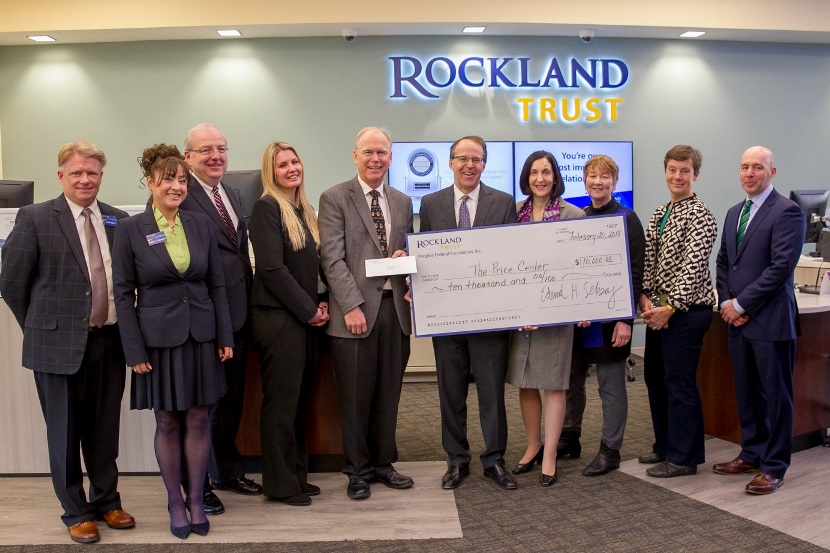 Rockland Trust Bank presents Justin Sallaway, President of the Barry L. Price Rehabilitation Center, with a check for $10,000. The check presentation was part of the opening of the Bank's newest branch in Newton.
L-R: Ed Sugrue/Retail District Manager Rockland Trust; Betty Velasquez/Newton Branch Manager Rockland Trust; Ed Seksay/General Council Rockland Trust; Jennifer Marino/Chief Marketing Officer Rockland Trust; Justin Sallaway/President of the Price Center; Chris Oddleifson/CEO Rockland Trust; Ruthanne Fuller/Mayor of Newton; Deborah Crossley/City Councilor-at-Large, Ward 5; Andreae Downs/City Councilor-at-Large, Ward 5; Rob Cozzone/Chief Financial Officer Rockland Trust
About Rockland Trust
Independent Bank Corp. (NASDAQ Global Select Market: INDB) has approximately $8.1 billion in assets and is the holding company for Rockland Trust Company, a full-service commercial bank headquartered in Massachusetts. Named in 2017 to The Boston Globe's "Top Places to Work" list for the ninth consecutive year, Rockland Trust offers a wide range of banking, investment, and insurance services.  The Bank serves businesses and individuals through approximately 100 retail branches, commercial and residential lending centers, and investment management offices in eastern Massachusetts, including Greater Boston, the South Shore, the Cape and Islands, and Rhode Island. Rockland Trust also offers a full suite of mobile, online, and telephone banking services. The Company is an FDIC member and an Equal Housing Lender.  To find out why Rockland Trust is the bank "Where Each Relationship Matters®", please visit www.rocklandtrust.com.