---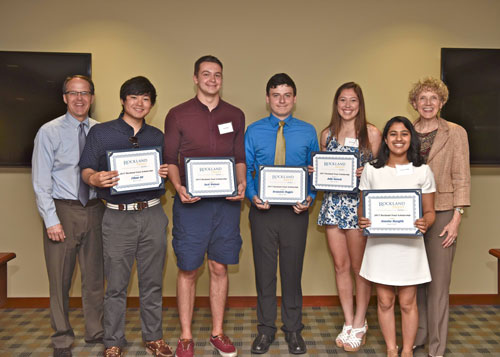 (Left to Right): Christopher Oddleifson, Rockland Trust CEO; Ethan Sit, Jack Watson, Benjamin Reggio, Julia Noreck, Anusha Manglik, and Pam Frey, Rockland Trust EVP Consumer/Business Banking.
Hanover, Mass. (June 2017) - Rockland Trust has announced the recipients of its 2017 Rockland Trust Scholarship Program for high school seniors entering their freshman year of college in the fall.

Awarding seven $2,500 scholarships based on combined academics, extracurricular activities, community involvement, and an essay on the importance of community service, this year's winners were selected from a pool of nearly 600 applicants.

An awards ceremony was held at Rockland Trust headquarters in Hanover, Ma where CEO, Christopher Oddleifson and EVP of Consumer and Business Banking, Pam Frey, congratulated the students and their families alongside Branch and District Managers from the respective winning towns.
"The Rockland Trust Scholarship Program is one that's near to my heart," said Oddleifson. "We are thrilled to be able to support your academic endeavors and know you're on your way to becoming the next leaders of society."

This year's winners include Anusha Manglik of Westwood, Julia Noreck of North Attleboro, Benjamin Reggio of Pembroke, Mohammad Shaikh of Burlington, Ethan Sit of North Quincy, Erin Umlauf of Bellingham, and Jack Watson of Monomoy.

"We are so proud of you," said Pam Frey. "The future is bright because of students like you and we look forward to seeing your accomplishments unfold."

About Rockland Trust
Independent Bank Corp. (NASDAQ Global Select Market: INDB) has approximately $7.9 billion in assets and is the holding company for Rockland Trust Company, a full-service commercial bank headquartered in Massachusetts. Named in 2016 to The Boston Globe's "Top Places to Work" list for the eighth consecutive year, Rockland Trust offers a wide range of banking, investment, and insurance services. The Bank serves businesses and individuals through approximately 100 retail branches, commercial lending offices, investment management offices, and residential lending centers located in Eastern Massachusetts and Rhode Island, as well as through telephone and mobile banking, and the Internet. The Company is also an FDIC member and an Equal Housing Lender. To find out why Rockland Trust is the bank "Where Each Relationship Matters®", please visit www.rocklandtrust.com.